Chanalyzer Essential
Spectrum Analysis for Complex Networks
WiFi is no longer a luxury. Your users depend on WiFi for business, education, healthcare, and entertainment. But delivering reliable WiFi in complex network environments can be difficult. That's why we built Chanalyzer Essential – a bundle that includes Wi-Spy DBx, Chanalyzer + Report Builder, and a dual-band directional antenna.
Powerful Dual-Band Spectrum Analysis
Chanalyzer Essential includes Wi-Spy DBx, a powerful dual-band spectrum analyzer that measures WiFi and non-WiFi activity in both the 2.4 GHz and 5 GHz bands. Chanalyzer utilizes radio frequency data from Wi-Spy DBx to provide you with a real-time visual overview of your WiFi network environment.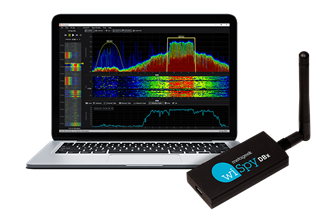 Locate Sources of Interference

Once you're able to see interference, the next step is to eliminate it. Unlike the omnidirectional WiFi antenna in your laptop or wireless adapter, a directional antenna is highly focused to pinpoint non-WiFi sources of interference. This allows you to actively seek out and remove loud transmitters from your WiFi environment.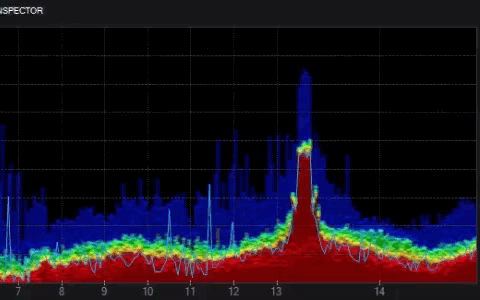 Monitor Channel Saturation and Intermittent Interferers
By graphing every access point within reach and pairing it with the raw RF information provided by Wi-Spy, Chanalyzer provides you with all the information you need to monitor and manage saturated channels. The built-in recording feature even allows you to track the most frustrating WiFi problem – intermittent interference – and come up with a plan to eliminate it for good.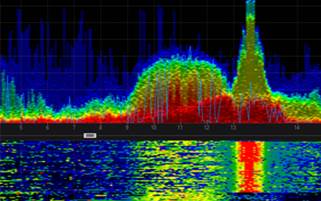 Find and Eliminate WiFi Dead Spots
Identifying gaps in your coverage area is paramount, whether you are planning out a network the first time or testing existing coverage to maintain reliability. Chanalyzer quickly reads the wireless environment, displays every SSID within range, and reports the signal strength in real time so you can ensure quality coverage for your users.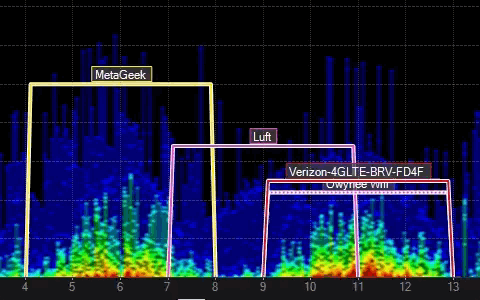 Report Your Findings with Ease
Utilizing Report Builder – included in Chanalyzer Essential – you can add a snapshot of any image or table with just a few clicks. Then add your own pictures and descriptions (or just use the defaults) to provide context. After you're done, export to PDF to create a visually compelling report of dead spots, saturation, and rogue APs that your boss or clients can understand.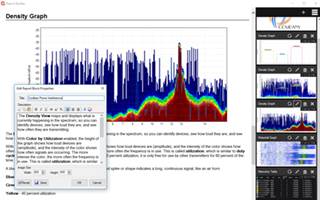 35,000 Chanalyzer + Wi-Spy customers
99% Customer service satisfaction
100,000 WiFi networks optimized
"Wi-Spy DBx was the only option that gave us everything we needed for supporting critical enterprise-level WiFi environments at an affordable price for our whole team."

Devin Akin
Divergent Dynamics
"In 16 years of building and analyzing wireless networks, Wi-Spy is the best 'bang-for-the-buck' I've seen."

Matthew Wheeler
The Network Operations Company
"Wi-Spy is easily one of my all time favorite tools and I strongly recommend it to anyone who is responsible for managing a WiFi network of any size."

Larry Greenblatt
CISSP, CISM, CEH, ECSA
Chanalyzer Essential
Spectrum Analysis for Complex WiFi
Includes:
Wi?Spy DBx
Chanalyzer with Report Builder
Dual-Band Directional Antenna
1 year of MetaCare for software
Add Cisco CleanAir Support
MetaGeek Complete
The Total Solution for Great WiFi
Includes:
Wi?Spy DBx
Chanalyzer with Report Builder
Dual-Band Directional Antenna
Eye P.A. + 802.11ac WiFi Adapter
1 year of MetaCare for software
Add Cisco CleanAir Support
MetaGeek Complete +
TamoGraph Pro
Includes:
Wi?Spy DBx
Chanalyzer with Report Builder
Dual-Band Directional Antenna
Eye P.A. + 802.11ac WiFi Adapter
TamoGraph Pro Site Survey *
1 year of MetaCare for software
Add Cisco CleanAir Support