What's new
Suitcase Fusion 8 sports a completely redesigned user interface, making it easier than ever to find
what you need, then get back to work.
This includes:
» No more split display between font lists and font previews: one panel displays all the
information you need to see.
» Compact Tile preview showing more fonts at a time.
» Quicker access to glyph view, with more details presented.
» Faster, more dedicated QuickMatch, integrated into the main panel.
Other new and improved features include:
» Display of supported languages for each font.
» Auto-activation plug-ins for the latest design applications from Adobe and Quark.
» Support for macOS High Sierra and Windows 10 Fall Creators Update.
View release notes for the current version of Suitcase Fusion at Extensis.com.
?
Quick installation guide
If you just want to jump in and get going with Suitcase Fusion 8, you've come to the right place.
If you want to take things more methodically, please see Getting started in detail on the next page.
1. Check the system requirements.
You need to be running Mac OS X 10.11 or later, or Windows 7 or 10. See System requirements
on the previous page for details.
2. Disable or uninstall any other font manager.
If you are running Suitcase Fusion 5, 6, or 7, you can just quit that program and continue. (We
recommend that you uninstall an older version but it is not required.)
If you are running Universal Type Server or a different font manager, uninstall it or disable it
before running Suitcase Fusion.
See Remove other font managers on page 11 for instructions.
3. Download the Suitcase Fusion 8 installer.
Get it here: Suitcase Fusion 8 Support.
4. Install the application.
On Mac, open the disk image and drag the Suitcase Fusion 8 icon into your Applications
folder.
On Windows, run the installer and follow the instructions.
5. Start Suitcase Fusion 8.
If you are not upgrading an older version, when you start Suitcase Fusion 8 for the first time it will
present the setup wizard. Follow the on-screen instructions to finish the setup. See First-time launch
and configuration on page 15 for details on the setup wizard.
If you have upgraded from an older version of Suitcase Fusion, then Suitcase Fusion 8 will have you
back up your original font vault and update your plug-ins.
Getting started in detail
Overview
Here are some steps we recommend when installing Suitcase Fusion 8.
1. Back up your system below
This is always a good idea when installing new software; if something goes wrong or you just
don't like it, you can get your computer back the way it was.
2. Gather your fonts on the next page
If you have third-party fonts that you want to use with Suitcase, get all of the discs and
downloaded files together so that you can install them.
3. Update your software on page 11
Make sure that your operating system and design software (such as Adobe Creative Cloud and
QuarkXPress) are up to date.
4. Remove other font managers on page 11
If you're using an older version of Suitcase Fusion, you can leave it installed, but we
recommend removing it.
If you're using Universal Type Client or if you're replacing another font manager, you'll need
to remove or disable it first.
5. Disable built-in font activation on macOS (see Font Book on page 13)
The automatic activation feature of Font Book on Mac OS X El Capitan 10.11 can conflict with
Suitcase Fusion.
6. Install Suitcase Fusion 8 on page 14
If you're using a recent version of Suitcase Fusion, you can take your old data with you.
7. First-time launch and configuration on page 15
This will help you finish configuring a new installation of Suitcase Fusion.
If instead you upgraded from an older version, see After you upgrade on page 17.
8. Add more fonts on page 19
If you didn't add them the first time you launched Suitcase Fusion 8, or if you have more
fonts, add them now.
Back up your system
Your computer carries a lot of valuable, even irreplaceable, information. A good backup strategy
can greatly reduce or even eliminate the possibility of catastrophic data loss in case your computer
is damaged or dies.
Even if you don't have a regular backup plan, creating a backup before you install new software is a
worthy precaution. What if something goes wrong during the installation? What if you just don't
like the software? Having a complete system backup lets you easily restore your system to the way
it was before you began the installation.
While we expect that you will like Suitcase Fusion 8 immensely, we still would rather have you be
safe than sorry.
Step 1. Download & install Suitcase Fusion
Download the installer for your operating system from the Suitcase Fusion support page.
Step 2. Launch Suitcase Fusion & Log In
The email address and password you used during the purchase process will serve as your credentials for Suitcase Fusion.
If you don't have an Extensis account, create an account with the email address you used when you purchased Suitcase Fusion. Suitcase Fusion licenses purchased from resellers will automatically be assigned to your new account when you use the correct email address.
Change your password if you've forgotten it.
Did you order multiple copies?
If so, all of your user licenses are managed under a single account. Each of your licenses will need to be assigned to your users online.
Login using your Extensis account email address and password. Change your password if necessary.

Click My Products at the top of the page.

Click the Suitcase Fusion row to reveal your licenses.

In the sidebar, enter the first & last names, and email address for each user.

If they don't already have an Extensis account, one will automatically be created for them. This is the email address that they will use when signing into Suitcase Fusion.
Please contact our Customer Service team if you have any account management questions.
Getting Started How-To Video
STILL HAVING PROBLEMS?
Refer to these pages for additional assistance:
Suitcase Fusion 7 & Adobe® Creative Cloud® 2017
The Challenge of Compatibility
Ensuring your design tools work together seamlessly is an ever-present challenge for Graphic Designers, Creative Directors, and any freelance design professional. On any given day, you might see updates from your operating system, your design suite or any number of critical utilities.
The last thing anyone needs is another thing to do.
The Extensis Solution: Eliminate The Compatibility Tail Chase
Extensis Suitcase Fusion 7 completely eliminates compatibility woes by making core platform compatibility – Adobe, Quark, macOS™ or Windows® – central to what we do.
If you can't manage your fonts you can't ship your work, and that doesn't work for anyone. With both Suitcase Fusion 7 you get all new font auto-activation plug-ins for Photoshop®, InDesign®, Illustrator®, InCopy® and After Effects®.
System Requirements
Suitcase Fusion 7
Macintosh
Mac OS® v10.9.5 through 10.12

Some features require an Internet connection

Safari® 7 or the latest release of Firefox® or Chrome™
Windows
Windows® 7 SP1, Windows 8, Windows 8.1, or Windows 10

Microsoft® .NET Framework version 4.0

Some features require an Internet connection

Internet Explorer® 10 or later, Microsoft Edge, or the latest release of Firefox or Chrome
Supported Applications
Auto-Activation Plug-in and Extensis Font Panel included for these applications:
Adobe Illustrator CS6, CC 2014, CC 2015 and CC 2017

Adobe InDesign CS6, CC 2014, CC 2015 and CC 2017

Adobe Photoshop CS6, CC 2014, CC 2015 and CC 2017
Auto-Activation Plug-in included for these applications:
Adobe InCopy CS6, CC 2014, CC 2015 and CC 2017

Adobe After Effects CC 2015 and CC 2017

QuarkXPress 10 and 2015
Your fonts managed well with Suitcase Fusion
There are many challenges in your day – demanding clients, complex projects, impossible deadlines, and more.
Something has got to give.
Let Suitcase Fusion remove your font woes and keep you focused on more important tasks.
Works with your setup
Whatever digital tools you use, Suitcase Fusion is developed and tested to support your professional workflow. Adobe Creative Cloud 2017 and QuarkXPress 2016, we have you covered.
The right font, every time
Font Sense technology built into Suitcase Fusion examines and identifies the unique metrics of each font, guaranteeing that the correct font is always used for a document.
As fonts are added to Suitcase Fusion they are scanned using the patented technology Font Sense that fingerprints each font with a unique identifier. This identifier based on specific font characteristics, is unique to this specific version of a font – wherever it exists. When a font is used in a document, the auto-activation plug-ins record Font Sense data in the document, so the next time the document is opened, the precise fonts required for that document are activated.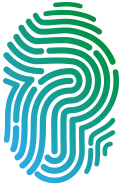 The Font Manager Trusted Worldwide
Wherever you work – home studio, coffee shop, or business office – you'll love Suitcase Fusion. Creative leaders in these organizations are already reaping the benefits of font management software with Suitcase Fusion.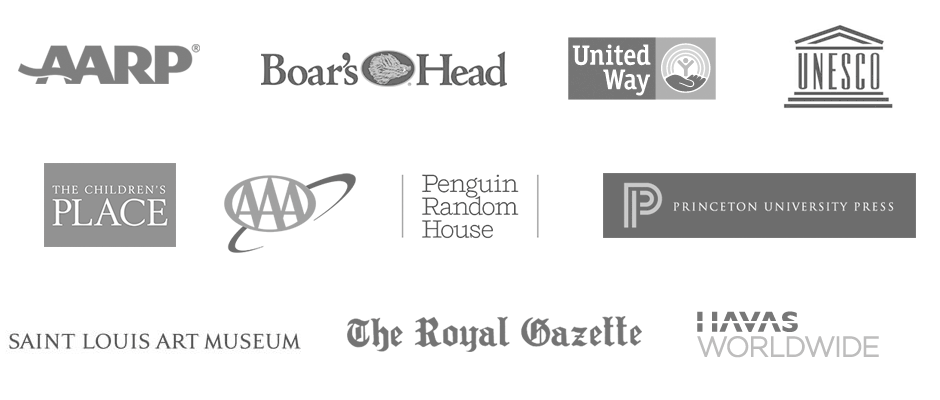 What's New:
Suitcase Fusion for iOS
You can now use your fonts on iPad and iPhone!
The Suitcase Fusion bundle now includes an app that syncs your font collection to your iOS devices.
Whether you're using the newest mobile design tools from Adobe, presenting mobile Keynote or PowerPoint presentations, or merely want to write using your favorite fonts, Suitcase Fusion has you covered.
Cloud-connected with TypeSync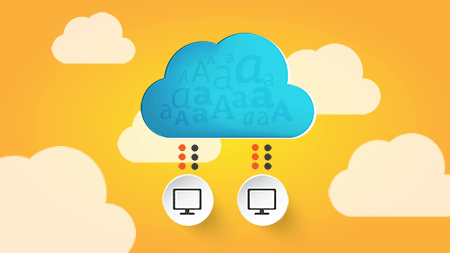 Never worry about losing fonts, or transferring them from one machine to another. Save your entire font collection in the cloud, with the Extensis TypeSync cloud service included FREE with Suitcase Fusion 7.
Save your font library in the cloud and it's then easy to instantaneously synchronize it to another machine. Whether you're upgrading to a new machine, or simply synchronizing your library to your second installation of Suitcase Fusion (included free with your purchase) TypeSync makes it easy.
Need to quickly synchronize your font library across multiple users? Consider upgrading to Suitcase TeamSync.
Adobe After Effects font auto-activation

Auto-activate fonts in professional design applications
With auto-activation plug-ins, missing fonts are no longer a problem. Work with confidence that the precise fonts required are automatically activated when needed.
Build your font mojo
Preview Fonts
See it before you use it with detailed font previews.
Organize With Sets & Folders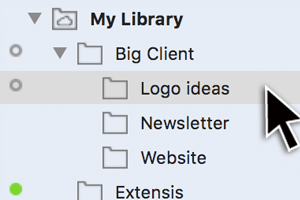 Organize your collection how you see fit.
Eliminate Corrupt Fonts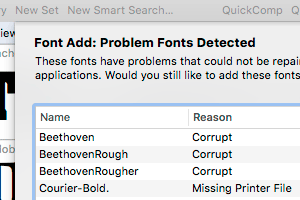 Corrupt fonts begone! All fonts are scanned for anomalies, ensuring problematic fonts stay out of your work.
Find Your Fonts Fast
Quickly find the fonts that you need.
Fully Integrates Google Fonts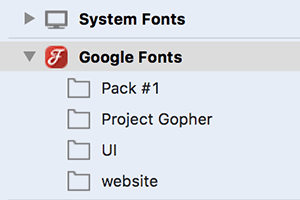 Build an instant font collection with Google Font library connection.
Find Similar Fonts Easily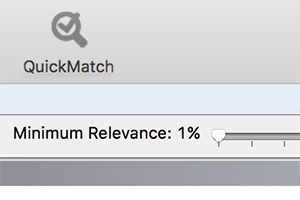 Search your font collection using any font as a starting place.
So much more to love
Easily Manage Adobe Typekit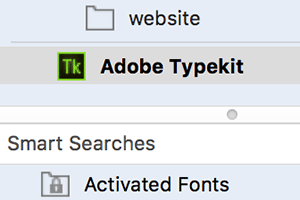 Manage Typekit fonts alongside your font collection.
Fontspiration Included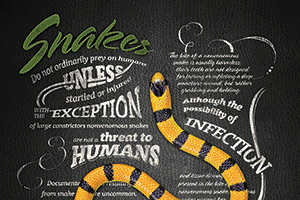 Secure Cloud-Synchronization
Easily sync your valuable collection to the cloud with TypeSync.
Create Mockups Faster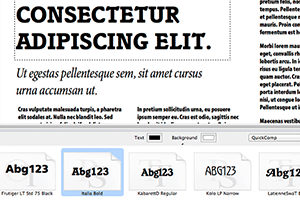 Quickly mock up font usage samples with QuickComp.
Click & Drag Font Previews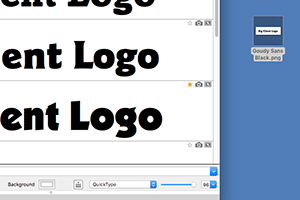 Drop previews on the desktop to create Font Snapshot PNG files.
Automate Font Organization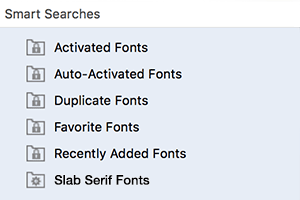 Automatically organize fonts into Smart Sets like smart playlists in iTunes.
Activate Fonts by Application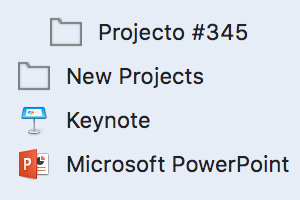 Automatically activate fonts when applications are opened.
Add Fonts Temporarily
Temporarily add fonts for short-term projects.
Floating Previews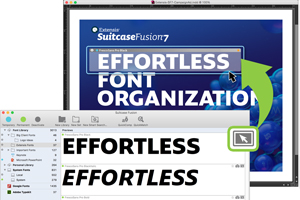 Drag previews off to float over other documents.
Synchronize your team
Need to share your library with multiple users across your team?
Need multiple copies of Suitcase Fusion?
Suitcase TeamSync can solve your team's font management needs.
Synchronize libraries across multiple machines using the TypeSync cloud

Manage users easily online

No server hardware required

Use the same, reliable, Suitcase Fusion app as your font manager

Automatic software upgrades included