When processing parallel (bilingual) texts ABBYY Aligner 2.0 uses a unique method offering advanced sophistication and efficiency. Using the word databases exclusively created by ABBYY developers for ABBYY Aligner 2.0, the software parses text into segments, matches them by their order in a sequence and then compares the source text segments with the translated ones. This way the software always finds the best matching segments, resulting in a better precision of text alignment.
Working with 552 Translation Directions
ABBYY Aligner 2.0 provides alignement of parallel texts in 24 most popular European languages totaling 552 possible translation directions:
Bulgarian

French

Romanian

Chinese*

German

Russian

Czech

Greek

Slovak

Danish

Hungarian

Spanish

Dutch

Italian

Swedish

English

Latvian

Turkish

Estonian

Polish

Ukrainian

Finnish

Portuguese

* both Simplified

and Traditional
Processing of Files in Various Formats
ABBYY Aligner 2.0 supports files of the most popular and common text formats. Moreover, you can just copy a text from another processing application and paste it into the editor window using the сlipboard.
The supported formats are:
| | | | | |
| --- | --- | --- | --- | --- |
| *.docx | **.pdf | *.html | *.ods | *.msg |
| *.doc | *.rtf | *.htm | *.odp | *.pps |
| *.pptx | *.xlsx | *.xml | *.dll | *.txt |
| *.ppt | *.xls | *.idml | *.resx | *.rc |
| *.ppsx | *.xml | *.odt | *.exe | *.mif |
| **ABBYY Aligner uses Adobe® PDF Library | | | | |

Automatic Processing of Large Amount of Documents
Batch Processing and Alignment Mode** is designed to process large volumes of files automatically. The software creates a queue of documents and aligns them without human intervention.
** Available only for ABBYY Aligner 2.0 Corporate licences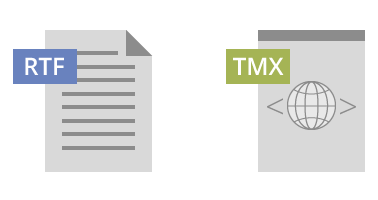 Saving Results in Translation Memory Format (TMX 1.4b Standard) or RTF
TMX (Translation Memory eXchange format) is an international standard supported by virtually all Translation Memory systems. When saving text aligned with ABBYY Aligner 2.0 in TMX format, the results can be re-used in a variety of other applications, such as CAT tools (Computer Assisted Translation Tools), widely used by translators. Also, the alignment results can be saved in RTF format which is the standard format for exchanging text documents and supported by many Microsoft products.
Intuitive Interface and Ease of Use
ABBYY Aligner 2.0 has a simple and intuitive interface, enabling users to understand its main elements faster, making the work with ABBYY Aligner 2.0 comfortable, quick and efficient.